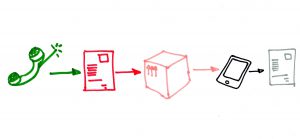 "Then the client may phone up and change their mind, then we find out that the last one in stock is damaged so we have to change it again, then we might find that the truck driver is ill, then we might find that the consignment needs to be moved to another truck run, then the client might not be at home or rejects the delivery…."
All of this can be handled and contingencies put in place by a good system and this is fine. But why do the changes take place?  What are the changes taking place, how often do they happen and which of them can be predicted and avoided or reduced?
If your system could start alerting you to the likelihood of changes being needed and if it could give you feedback on the numbers of points of failure and nature of failure would that be useful?
This process of improvement never stops and it is both necessary and beneficial. It also applies to all types of business and data management.
What data are you processing needlessly?