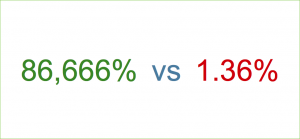 A client asked me to have a look at a task that their staff have to carry out every week. It takes them 1 hour to do. It cost them just £120 for me to make a change that removed the need to do the task – at all.
When I had completed the coding work I was throwing out my junk mail and noticed an offer for a high interest bank account offering…
1.36%.
Instead of my client dropping £120 into a bank account the client had handed it to me and in turn I had removed the need to spend an hour every week doing a very boring task. The staff are estimated to be worth at least £100 per hour. so they had just saved £5,200 a year on this staff member – but there were 20 staff carrying out this task. That is £104,000 a year that they no longer had to spend… for a cost of £120. The return on investment =
86,666%
Imagine if they had had to spend an hour a day (instead of a week) or had more staff carrying out the task.
The coding was good for all of time – so this saving will be taking place every year.
What if the task had taken longer or there had been more staff?
Improving your data processing functions saves money. Lots of it. Start with a system that can respond to your specific needs and which can let you make changes quickly.
What tasks do you have that take a long time, frequently that could be automated? Sometimes clients are so used to having the task carried out they have not questioned if a human needs to be involved at all.
What could you do with the time that the removal of this task would give you back?