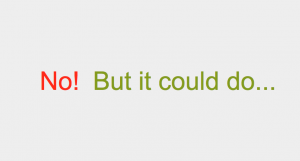 The other day I was asked to liaise with a representative of an accounts package with the aim of transferring data from the custom system I had created to their system. The system I had created had many specific features that produced the very detailed information the client needed to have appear on the invoice.. compliance data, specific product codes etc.
As the meeting progressed I asked a series of questions about the ability of the off the shelf package to receive data in various formats to meet the client's requirements. The answer time and again was: "No – we can't do that". Could it be done if they modified the system? Again – "No – we can't do that".
In the end I did a bit of work at my end and we were able to produce what was needed by presenting the other system with the data pre-formatted as required.
This got me thinking…. Is it better to ask if a system can do a certain task and be told "No" or to ask the same question and receive the answer – "No! But it could do".
If the system could be modified within days, sometimes hours, to meet the new requirement would that not be useful?
I often see clients develop coping mechanisms when their systems cannot do what they need it to. This starts a proliferation of spreadsheets and sub-systems and a whole new task of cross checking is created. (Since, in the process of transferring data to the sub-system errors creep in…)
This is a business owner's nightmare from day one.
Now of course I would say that being able to modify the system is preferable – but then as I was writing this very piece – the phone rang.
So for the next hour I will be making a change to a system that will save the client (and in turn their client) an hour a week per staff member.
Let me refer you back to my previous article…daft figures…